To provide the best charging experience we help you deliver end-to-end charging solutions – at home, work or on the move – all serviced by a single EV Cloud Platform.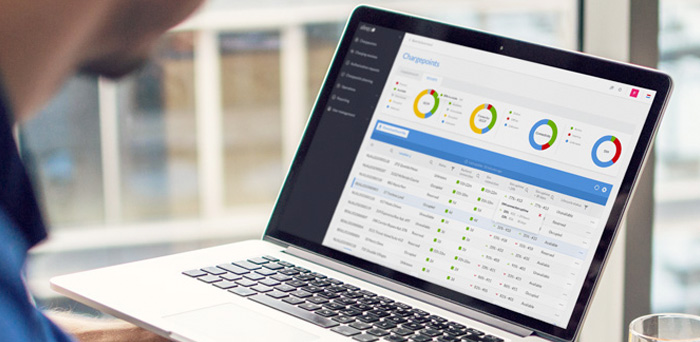 Your platform for all things EV
EV Charging is the future and so it's only fitting that Allego offers cutting edge systems to back it up. The Allego EV Cloud is a one-stop-shop platform where together we can monitor and analyse your charger's usage, set pricing and access to chargers for users and resolve incidents remotely. The IT services that help you easily manage your charging location and optimize the utilization of your charge points. Accessible anytime and anywhere via a portal or app. We've got you covered 24/7.
Who is it for?
EV Cloud is for business, cities and (future) charge point operators who want to easily control and monitor their chargers. For companies that have e-mobility as its core business and need all charging related service offerings. Or for companies who want to keep track of their investment.
Including features such as:
Charge point management and operation


Insights and Reporting


Access management for chargers


Custom pricing and billing
Smart charging


Fleet management
EV-driver app
Charge point management and operations
With EV Cloud you can manage chargers and sessions remotely, letting you monitor and adapt your charging sessions based on up-to-date analytics. Chargers can be connected via an M2M connection to our Microsoft Azure cloud based platform, which supports open protocols such as OCPP, OCPI and OSCP. You can even input remote commands including start/stop charging, unplug connector, remote firmware updates or change charger configuration and access a live KPI dashboard.
Insights and reporting
Our dashboard of tools will give you detailed insights about every charging session. So you can keep track of performance, turnover, customer retention, charger efficiency and even receive customised reports using the EV cloud.
Access management for chargers
Easily connect your chargers to international roaming platforms or provide access based on your own customised user list, charge times or locations with EV Cloud. Our authorisation service allows you to set restrictions on who can use your chargers and even apply a specific tariff plan for a group of users. Our EV cloud platform is connected to major European roaming hubs like Hubject, E-clearing and Gireve, allowing you to easily connect to hundreds of mobility service providers (eMSP) and their customers. A direct connection to any service provider worldwide is also possible via a secure OCPI interface or through white listing of cards/charge tokens. We offer a NFC payment solution to support the latest contactless debit and credit cards.
Custom pricing and billing
With EV Cloud you can configure tariff plans and payment methods per group of chargers and validate sessions before sending them for billing to service providers. Our platform allows you to set different tariff plans, based on your agreement with different eMSPs, as well as accept direct payment based on kWh pricing, time based pricing or even specific fees such as a connection cost. Through charging session management you can investigate individual sessions and reject suspicious sessions, before being sent to a MSP for invoicing to their customer.
Smart Charging
Smart Charging through the EV cloud uses algorithms to manage your charging sessions. Meaning you can smartly balance between the supply of power and available grid capacity and the demand for energy for charging the cars.
Fleet management
We make sure all the activities belonging to your fleet management (e.g. activating accounts, setting budget levels, tracking statuses, etc.) are taken care of within 1 system. Allego's Fleet management allows you (or your designated fleet manager) to manage or let Allego manage the administration of your fleets and home charger requests. Moreover, as an extension you can offer this service to your customers as it were your own
EV-driver app
Everything you need for carefree driving. Find and monitor the perfect charge point; charge and pay with your app; see exactly how fast, how much and at which rate you are charging; and be the first to make use of the latest charging services.
Do you want more insights in your charge points?
We'd be happy to discuss our business models and service offerings with you. An appropriate solution is always available so get in touch and let's start the conversation.
Interested in going electric?
A fitting solutions is always available!
Do you have a question or want to know more about our charging solutions? Please ask. We are happy to help you!

Fill in the form or get in touch:

E: business@allego.eu
T: +31 88 750 03 00